Shop our curated collection of handmade goods and uncommon gifts from featured Tennessee artists.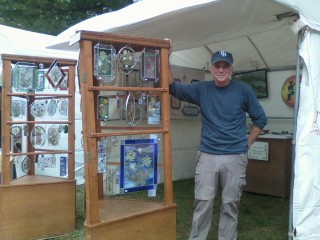 Fleur De Glas
In 1982 I came to Tennessee from Hawaii and bought a small farm which I named Laulima, a Hawaiian word that means many hands working together in harmony.
Then the planting began. Each handcrafted design is original and one-of-a-kind, made solely by me. Created from flora that I grow, harvest, dry and press, I place with tweezers, using many techniques into stained glass art pieces.
I blend the beauty of the smallest of flowers and other flora with the glass in a natural flow of harmony and balance as is found in nature so everyone, each day, can enjoy the beauty of what lives outdoors for those who take the time to look.
Here's to hygge winters, quiet corners and gift-worthy, artist-made mugs.
This isn't your typical online gift shop.
Inspired by our signature fairs and exhibitions, the Tennessee Craft Artist Market is your year-round opportunity to discover and support accomplished artists across the state.
Here, we put our mission into action, curating an ever-changing selection of finds for our patrons while providing a vital small-business platform for our members. Just like at our seasonal fairs, don't hesitate when you see something you love; the next time you visit, you could find a one-of-a-kind treasure!
Become a Tennessee Craft Member.
Looking for a supportive, thriving community to enrich your artistic journey? Find opportunities for connection, mentorship, exhibition, professional development and more as a Tennessee Craft Member.
Be the first to know what's new!
Join our email list for new artist alerts, exclusive discounts and special pop-up events.